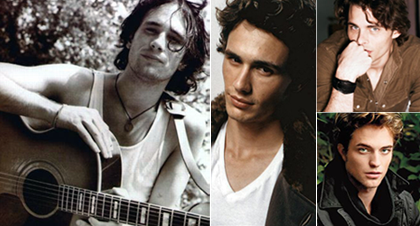 the playlist
on a jeff buckley biopic to be released in 2010:
Whatever happened to that damn Jeff Buckley biopic that was announced years ago that seems to have gone nowhere?
...
Attempt #1 at the biopic was actually made by Buckley fan, Brad Pitt, who once achieved Guibert's blessing, and then hired Emma Forrest, a British novelist and journalist, to write a screenplay in the vein of the 1979 Bette Midler film "The Rose," according to the New York Times article from '06. Both of her "too fantastic" drafts were rejected (Buckley met the ghost of Judy Garland in one ill-conceived scene) and that version fizzled fast and Pitt gave up (Guibert has been notoriously hands on, which has perhaps persuaded other filmmakers, but it's obviously a legacy she feels she must protect, and rightly so).
...
David Browne's 2001 biography, "Dream Brother: The Lives and Music of Jeff and Tim Buckley" was optioned in 2005 by Train Houston, an L.A. writer who briefly interested Tobey Maguire's production company in the project, but Guibert disliked his version of the script as well and the project halted.

Guibert and Michelle Sy, who executive-produced "Finding Neverland," then tried for the aforementioned take #2 that apparently went nowhere either.
...
Finally some new news via the Australian press, which we can confirm we've known about for some time. Orian Williams, who produced the well-received Joy Division, Ian Curtis biopic, "Control," in onboard, and a new screenwriter has been hired, Ryan Jaffe, who wrote "The Rocker" (please hold your comments on that one).
...
The Aussie Courier Mail says that

Jared Leto, James Franco, Robert Pattinson and James Marsden

are all interested in the part and we can confirm producers are interested in them as well.

"Whoever gets the part will need a lot of self-discipline because they won't be able to fake it," Guibert said in the Oz interview. "It's going to take a phenomenal set of skills."

But no script is complete so no one's officially attached, just interest from many parties (another well-named young actor is apparently really hot to see some pages, but we're not at liberty to say his name, plus again, very early days).
...
So anyhow, yes take three on the Jeff Buckley biopic is currently underway. When it hits the screen? These things take a while. One point of contention: every report about Buckley says he is known for recording the "definitive" version of "Hallelujah," and while we like his celestial-voiced falsetto, the definitive version of that song will always be the one made by its creator, Leonard Cohen. Sorry, Buckley fans. That said, bring on the biopic, we'd be interested to see how it pans out.
hmm....................read the full article
here